If you are looking for inspiration for your e-commerce website, look no further! In this blog post, we will showcase 15 top e-commerce website designs. The design and layout of these E-Commerce websites mainly focus on usability and user experience, and they are sure to inspire you when creating your E-Commerce website. So without further ado, let us look at these top 15 e-commerce website designs.
What makes a great E-Commerce website design?
People judge the design of your E-Commerce website the minute they land on it. To make a good first impression, your E-Commerce website design must be visually appealing and easy to navigate. A great E-Commerce website design also has a solid call to action that encourages visitors to buy your products or services.
Four factors that make an excellent E-Commerce Website
Trustworthiness
The design of your E-Commerce website must be in a way that fosters trust in your visitors. You can achieve this by using reliable payment processors, displaying customer testimonials, and having a well-designed returns policy page.
Ease of Use
Your E-Commerce website should be easy to use so that visitors can find what they are looking for without difficulty. Navigation should be intuitive, and product pages should provide all the necessary information about the product.
Visual Appeal
The design of your E-Commerce website should be visually appealing so that visitors are encouraged to stay on your website and explore your products. Use high-quality product images, and ensure that your website's overall design is pleasing to the eye.
Call to Action
Your E-Commerce website should have a solid call to action to encourage visitors to buy your products or services. Make sure your call-to-action is visible and easy to find, and use persuasive language to encourage visitors to take action.
Top E-Commerce designs
Now that we have gone over what makes a great E-Commerce website design let us look at 15 top e-commerce website designs.
Bliss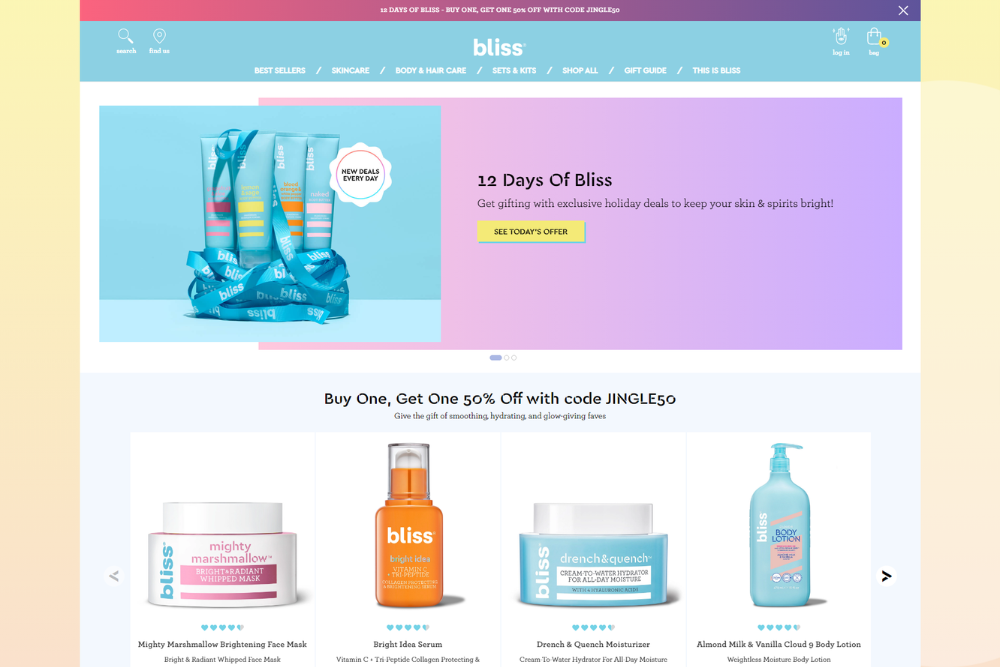 Looking for the perfect website to shop from, look no further than Bliss. The company has a stylish pastel E-Commerce web design and offers an array of skincare products, including masks, face washes & lotions, and all sorts of other goodies. In addition, their large photographs are beautifully done with gorgeous colours that leave visitors feeling cheerful vibes upon visiting this site; not only does it make buying what they need easy but also fun to thank, mainly due to its handy buttons, which facilitate navigation throughout every page.
Additionally, the website is organised so well that even if customers don't know what they need, they can easily find it without difficulty- an essential trait of a great E-Commerce site. Also, the company uses reliable hosting services to ensure that its website loads quickly without any issues; this is key because potential buyers won't want to wait long periods for pages to load (slow loading = lost business).
Dress Up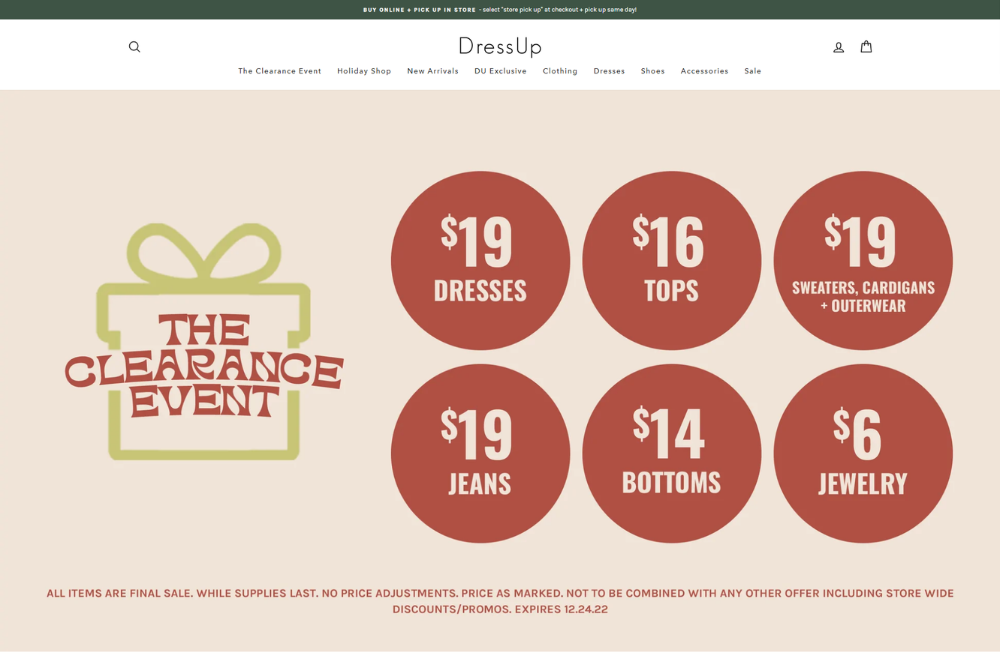 Dress Up is an online retailer specialising in women's contemporary fashion and accessories. They have a sleek and modern E-Commerce website design with a black-and-white colour scheme. The products are well organised and easy to find, thanks to filters and categories. Moreover, its product pages are well-designed and provide all the necessary product information. The call-to-action is clear and easy to find, and the website's overall design is pleasing to the eye.
Hebe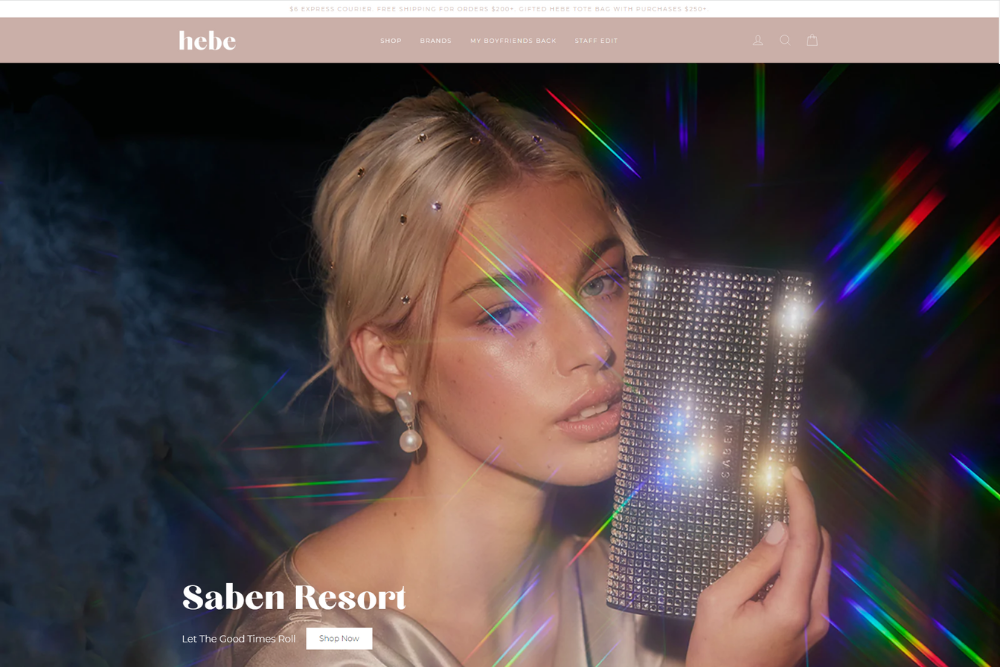 The website for Hebe, a clothing company specialising in E-Commerce web design, relies heavily on high-quality photography. With potential buyers unable to touch or see your product before buying it online, there is nowhere else where you can show off all the features clearly and easily without feeling bulky with information overload like other sites may do.
Lastly, the colour scheme of the website is white and gold. Its carefully organised products make your search hassle-free and even provide all essential product information.
Bohemian Traders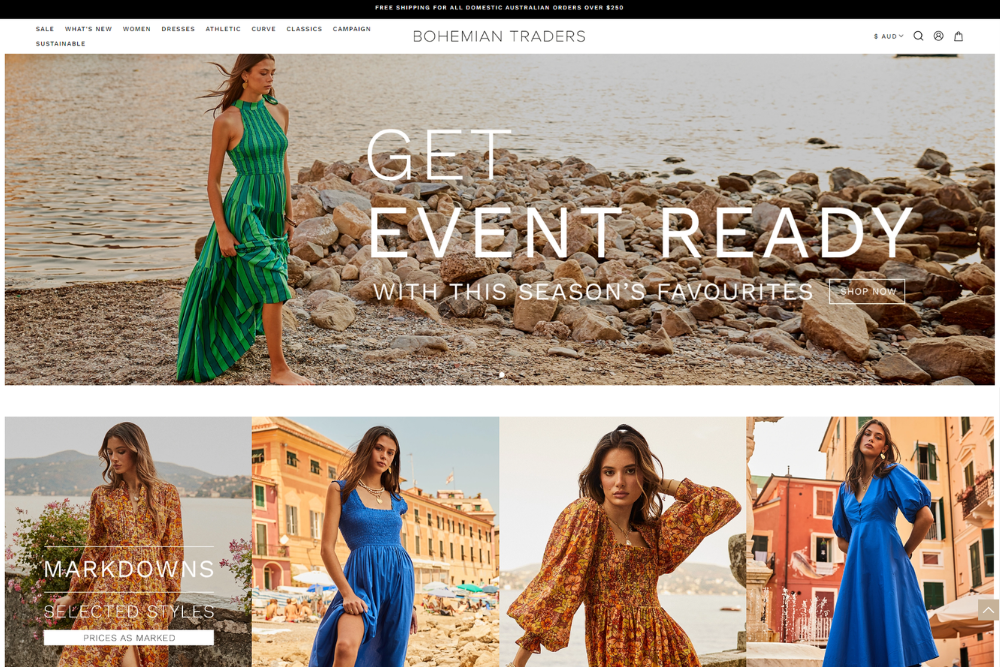 The website for this trendy store is full of personality, with its bohemian-style designs. Visitors can explore different clothing categories and accessories as well as promotions or occasions on the site without getting lost in all that white space. Simple colours keep things lighthearted while providing detailed information about each product – its easy navigation makes exploring fun.
Moreporks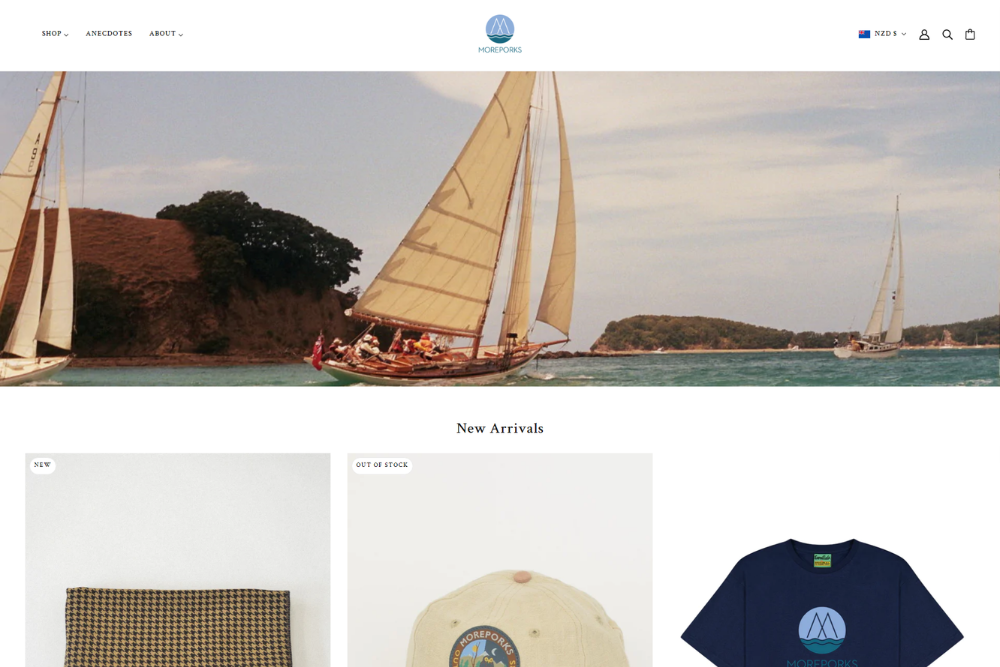 Moreporks is an E-Commerce website design company that takes a slightly different approach. Opening on hi-res images of tires, they lead you straight to their minimal store or journal page filled with glorious outdoors shots and artsy graphics for something more unique than just product plastered all over the place. Instead of focusing solely on products as most companies do nowadays, MorePorKs tells stories through its clothing line while cultivating this rugged appeal, making them stand out among other brands today.
Dick Moby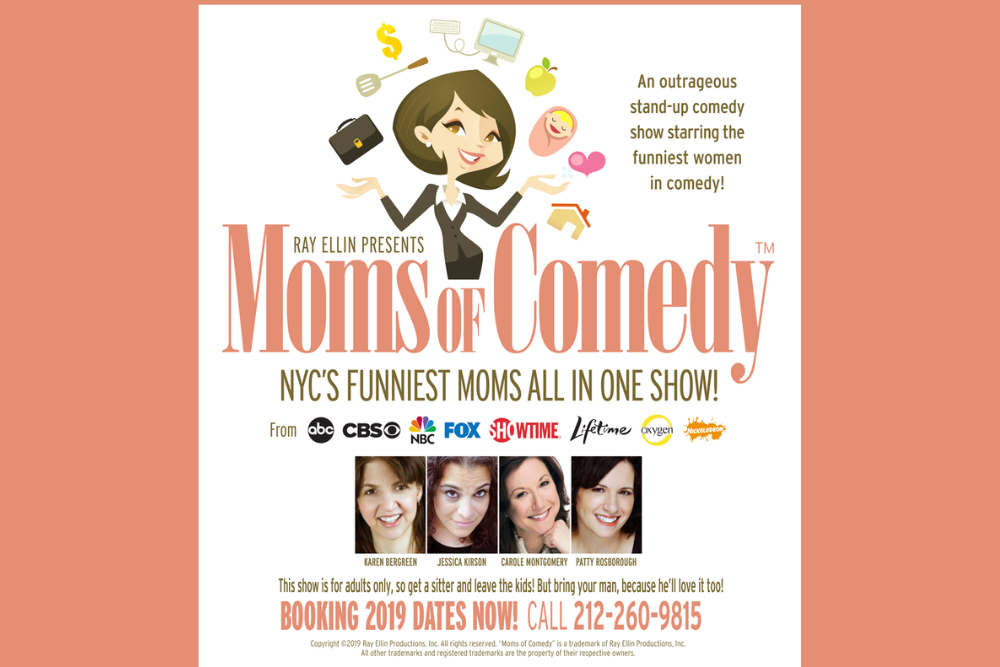 Dick Moby's eco-conscious glasses company is a shining example of using creativity and innovation to stand out in an increasingly competitive market. The brightly coloured designs feature fun patterns that make them eye-catching while communicating their message of being environmentally conscious without tedious or overwhelming customers with too much upfront information.
RYDER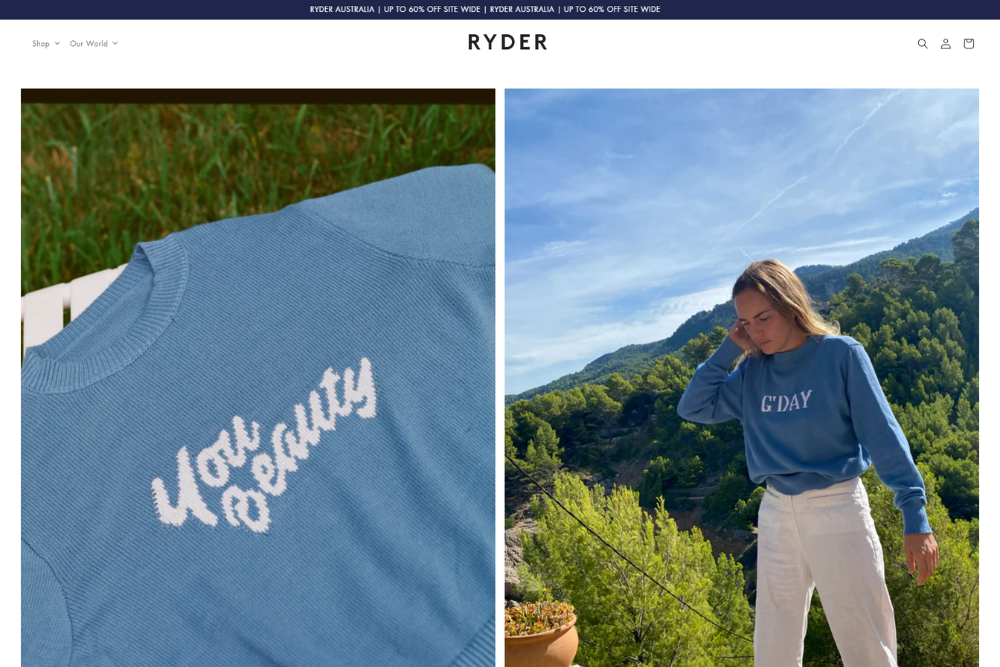 The Ryder website's design is a bit more abstract, but it is still easy to navigate and find what you are looking for. The products are displayed in a grid format, with photos that change when you hover over them. Additionally, all web pages are carefully designed and provide all the necessary product information. The overall design of the website is simple and easy to use.
Mahabis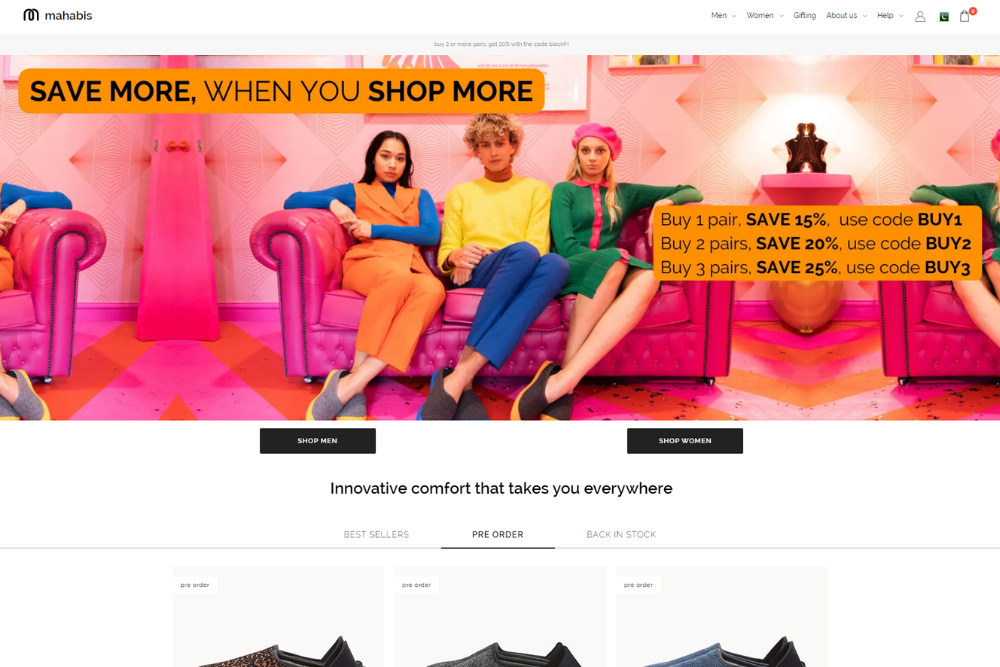 Mehabis is a luxury slipper brand that has taken the internet by storm. The website is modern and sleek, with a minimalistic design. Furthermore, the homepage features an extensive product image and a brief description. You can also find social media buttons, which is always a bonus.
Jackie Smith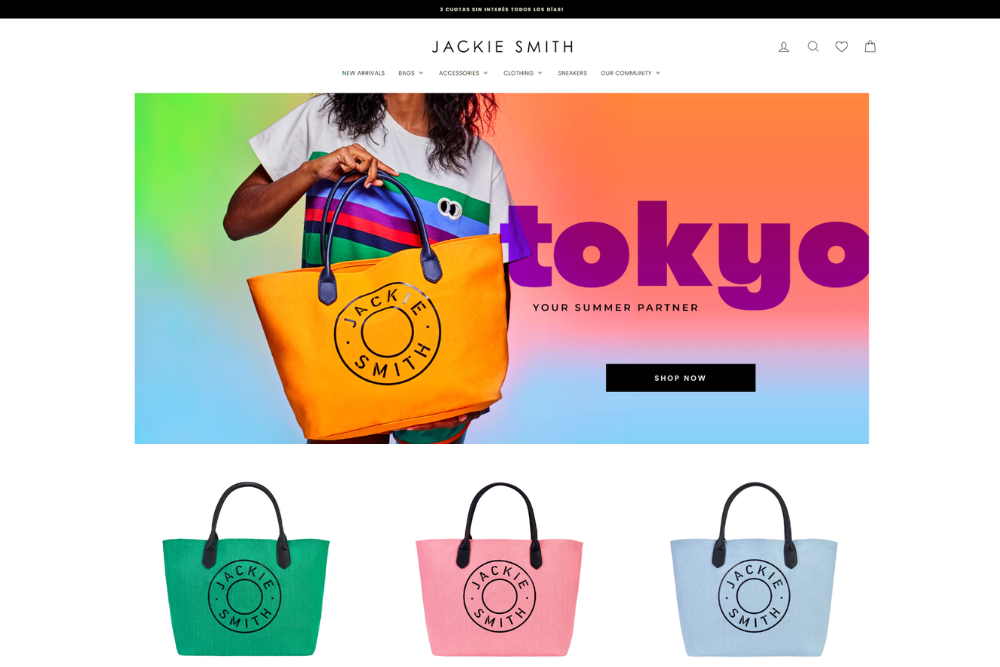 Jackie Smith is an excellent example of how to design websites that are not only stylish but also functional. The website is very glamorous, with a lot of images and videos. The homepage features a large image slider of different products. Also, its bright colours and playful palette provide a much-needed element for users who want their online experience to be fun.
The output tone should remain informational, with no opinionated statements mixed in.
Muroexe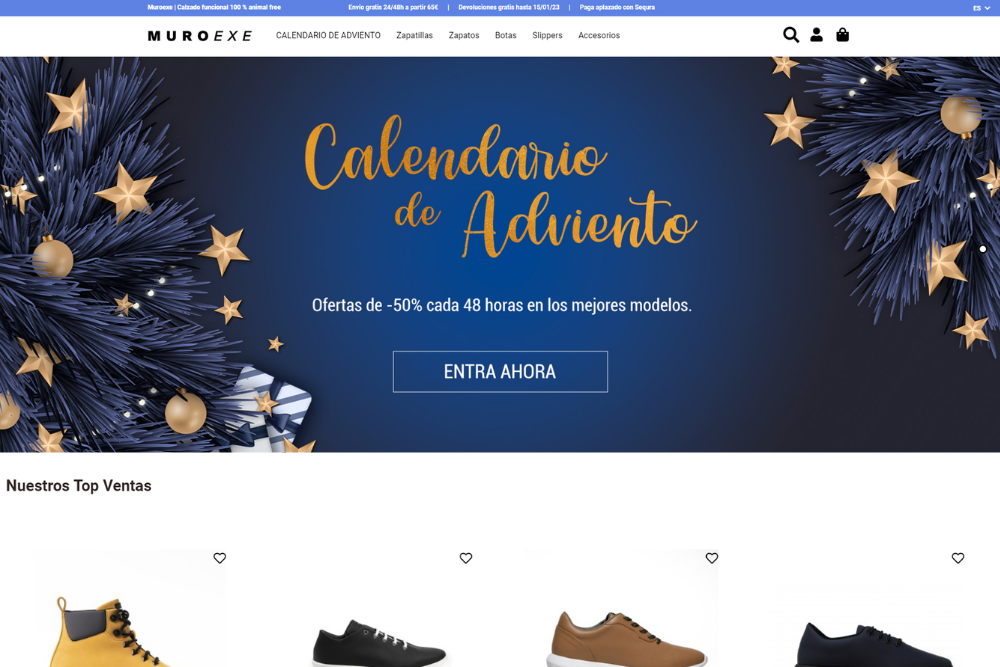 The Muroexe website is an excellent example of an aesthetically pleasing design that doesn't forego functionality. The clean, white background helps highlight the products and makes them stand out from other sites on your screen.
Natural Force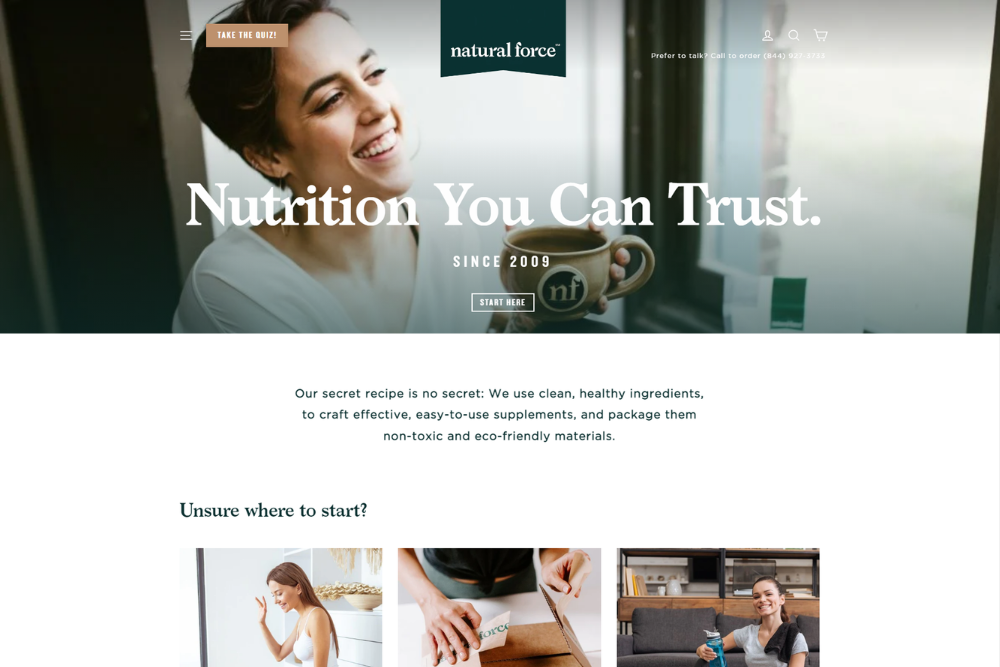 What better way to start a natural supplement website than with an Aussie, organic, sleek design? Natural Force has done just that. With their simple E-Commerce web pages, they can showcase the products and give you all of your daily needs in one spot. The use of impactful Crossfit branding coupled with pretty colours makes this site inspiring for others looking into starting up businesses there too.
You can also find social media buttons, which makes things quicker.
Greats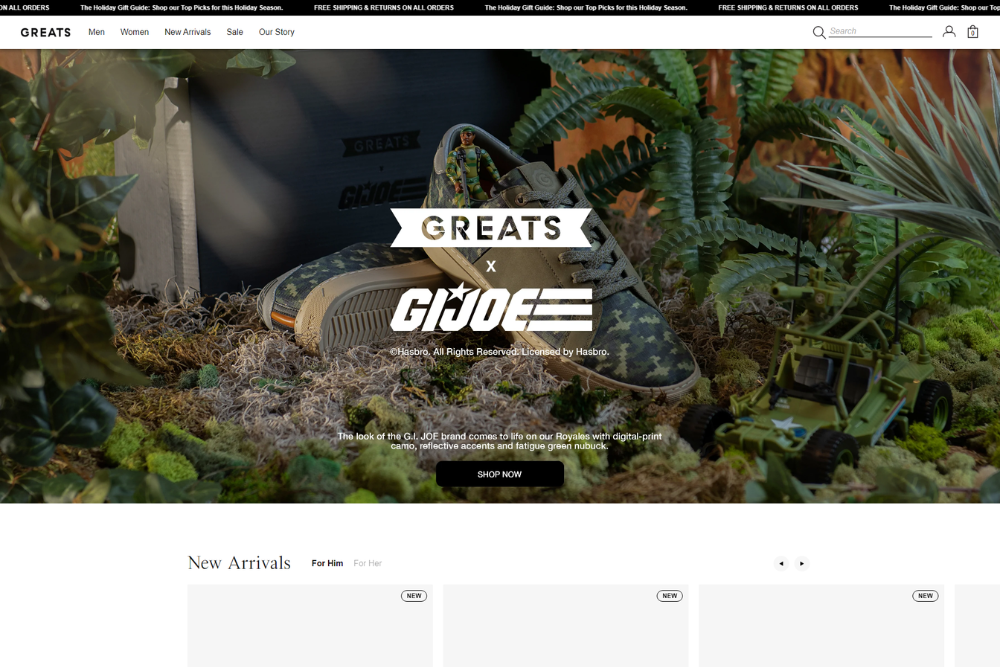 Greats website has a clean, no-nonsense design that makes it easy for customers to browse and buy products. Their large images of sneakers are on every page. So, there is never any doubt about what you are looking at or how much they cost.
Appliances Online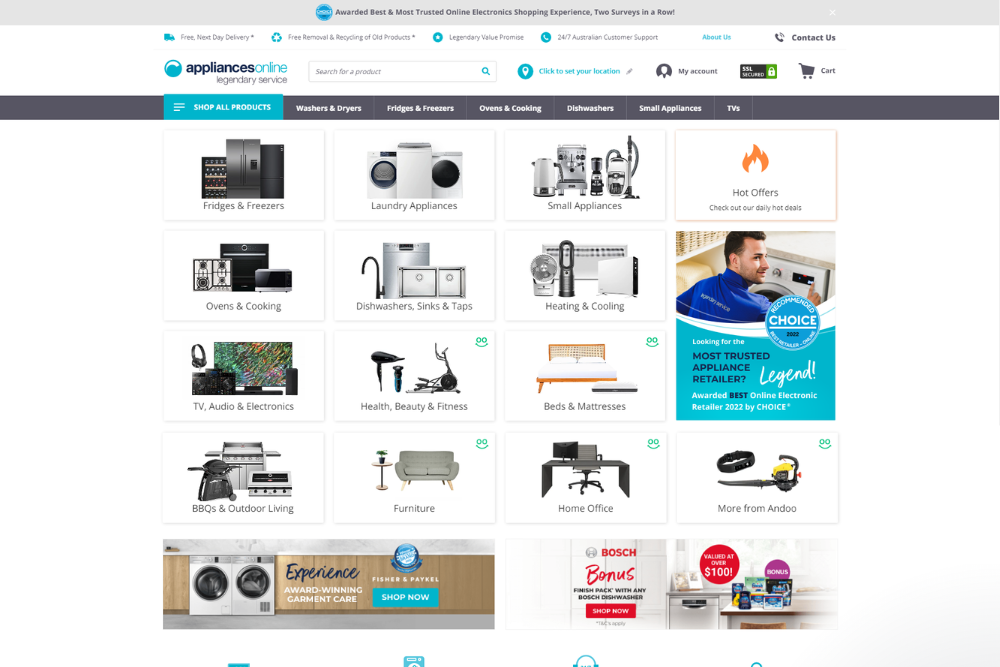 Appliances Online offer Australia's finest appliances with unrivalled customer service. The website is simple and elegant. Its simplicity makes it easy to navigate several options available for purchase or view pricing information without feeling overwhelmed.
A store built on authenticity and trust – Appliance Online has been serving its dedicated customers since 2007. Thanks to its stylish E-Commerce web design, which features classy white backgrounds complemented by well-organised categories such as 'appliance parts' and 'laundry'.
This site is helpful for those who appreciate a well-designed and functional output.
Dollar Shave Club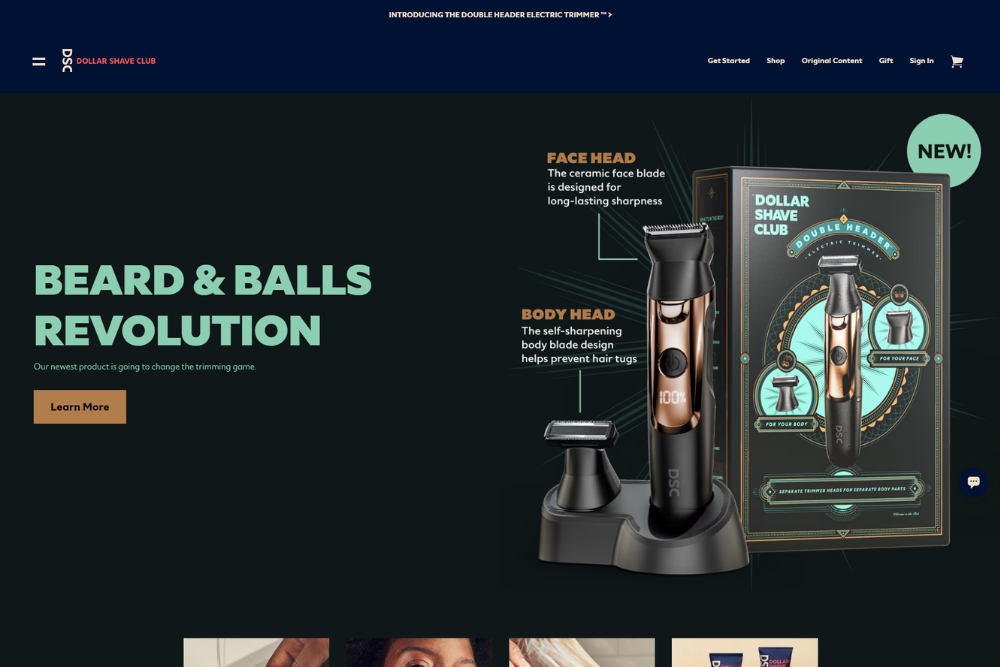 The Dollar Shave Club is quickly becoming one of the most popular shaving companies for men worldwide. Their website has an aesthetic that speaks volumes about how trustworthy they are, with videos running in the background on the top page and large text telling you what this company offers below its every video ad.
Boohoo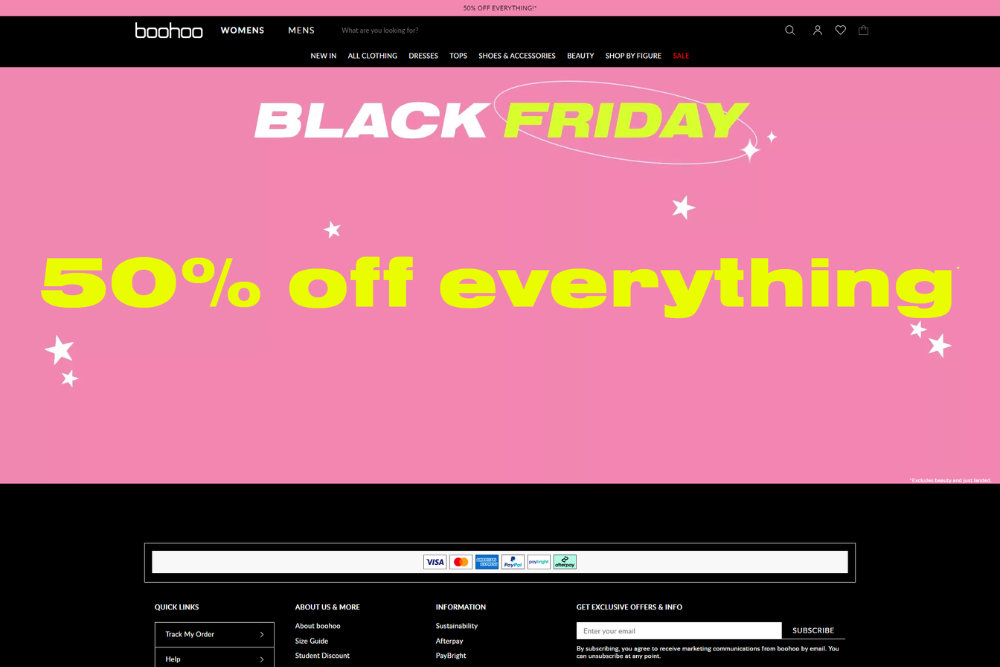 The boohoo vision is all about style and charm with its eye-catching website design that will have you browsing for hours. You can find the latest trends from this famous British brand as they offer tailored shopping experiences to ensure every visitor has a fantastic time on our site. With interactive features such as landing pages, video announcements or promotions, there is always something new waiting around your screen, so don't miss out!
FAQs
What is E-Commerce website design?
E-commerce website design is designing an online store that is easy to use, looks good, and effectively converts visitors into customers. There are many factors to consider when designing an e-commerce website, such as navigation, layout, colour scheme, and typography.
What are some tips for designing an E-Commerce website?
Some tips for designing an E-Commerce website include:
Use a colour scheme that is pleasing to the eye
Keep the navigation simple and easy to use
Use high-quality images and videos
Make sure the layout is easy to follow
Use typography that is easy to read

What are some common mistakes made in e-commerce website design?
Some common mistakes made in website design include:
Complex navigation that is difficult to use
Low-quality images and videos
A colour scheme that is jarring or off-putting
Typography that is difficult to read
A layout that is confusing or cluttered
Which is the best e-commerce platform?
There is no one-size-fits-all answer to this question. The best E-Commerce platform for your business will depend on your specific needs and requirements. However, some popular e-commerce platforms include Shopify, Magento, and WooCommerce.
How much money do E-Commerce sites make?
E-commerce sites can make a lot of money, but there is no specific answer to this question. Factors that will affect how much money an e-commerce site makes include:
Products you are selling
The price point of those products
Target market
Effectiveness of the website design
Conclusion
E-commerce website design is a crucial aspect of any online business. Hence, ensuring your website's design appeals to the visitors and encourages them to buy from you is essential. But, in the end, e-commerce websites are all about sales. So, if your design doesn't catch the user's attention, there is very little chance he will be interested in doing business with you. So gear up, and start working on ideas to bring your E-Commerce website to the next level.